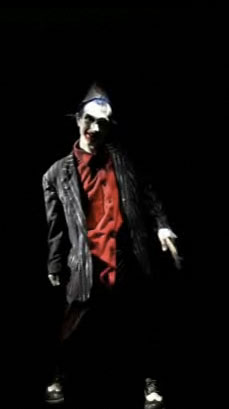 LA Weekly


June 19th, 2009

Death's a Circus: Cirque Berzerk Combines Acrobatics with a Post-Rave, Post-Goth Sensibility

It's a humdrum world. Every day you hustle through city streets amidst a sea of suit-wearing, briefcase-carrying clones. Then you die and the party begins.

Cirque Berzerk's Beneath, which opened last night at Los Angeles State Historic Park, is a trip through an afterlife that merges influences of Burning Man (where the troupe initially formed), Weimar-era Berlin and industrial nightclubs while mixing the big top and ring of the traditional circus with...


Los Angeles Downtown News


June 26th, 2009

Tent of Iniquity

Just off Spring Street, not far from City Hall, there are decadent and sexually charged forces on the loose, ready to satisfy Downtown's most perverse instincts. But enough about Lu Parker's website photos.

Actually, these forces are even steamier. And they serve alcohol.

Step inside, ladies and gentlemen (and ill-mannered dwarves), we have a new circus in town! Coincidentally, what better place for the mayor and his new journalist friend to unwind after a rough day of not running for governor (him) and no longer reporting on politics...


The OC Register


January 11th, 2011

Cirque Berzerk show is dark, sexy fun

There are some things in life better experienced than explained. Cirque Berzerk is one of those.

The troupe's mysteriously dark and sensual yet wildly thrilling performance went over well during Friday's opening night at Club Nokia. There were a few kinks in this L.A. Live debut, but the professional players smoothed them over handily. Besides, who would notice a few glitches when there's a scantily clad woman in crying clown makeup eating fire in front of you, while a toned, shirtless man flies around the stage, gracefully contorting his body in mid-air...


Los Angeles Times


July 19th, 2009

Lucha VaVoom and Cirque Berzerk are L.A.'s theater of the odd

... A similarly posture-free party atmosphere pervades Cirque Berzerk's "Beneath," a Weimar cabaret-inspired, Goth-rock big top production that recently reextended its run under a 1,700-capacity circus tent in the Los Angeles State Historic Park ("The Cornfield") on the edge of Chinatown.

Originally conceived in a stripped-down form in 2004 for the Burning Man gathering Gilbert and Sullivan in the Nevada desert, "Beneath" was forged by the artistic director tag team of producer/co-creator Suzanne Bernel; her husband, composer/co-creator Kevin Bourque...


Blogging LA


August 4th, 2009

Cirque Berzerk Delivers and More…

This past Friday night I went to the performance of Cirque Berzerk and wow! I was blown away! It was a wild, fantastic and downright fun way to usher in the weekend. I'm a sucker for any kind of performance: movies, dance, theater, performance art, spur of the moment expression, whatever… I'm in. It takes a special kind of drive to make art and I really respect it's forms. So of course, I see a lot of weird, not so great marginal stuff. Not this time. My mouth was hanging open and I laughed and sighed in excitement every moment.

The creators of Cirque Berzerk deserve an award...


LA Stage Times


June 25, 2009

Cirque Berzerk: The Darker Side to Soleil

Did you know that downtown LA has a new 1,754-seat theater? And that it's occupied by a company whose budget has grown from about $80,000 to around $650,000 during this recession-plagued era?

Yes, there's a catch. That new venue is a big tent, home of the LA-bred circus, Cirque Berzerk. The tent won't survive the summer in its current location. Furthermore, the state park that houses the tent might soon be closed because of the state's expected budget cuts.


NBC Los Angeles


January 7th, 2011

Berzerkity Berzerkness Reigns

If you spent any time watching the ballyhooed HBO hour-long "Boardwalk Empire" over the last few months, you probably had a moment or two of wishing you could visit that world for a day.

Good thing we can visit a bit of that world, sans favor-begging, from Jan. 7-30 at Club Nokia. Cirque Berzerk, which has sauntered saucily around these parts before, will be settling in at the venue for two weeks of shadowy, circusy delights. Acrobatics and tumblers and twisters and clown types who may or may not have hidden agendas, but definitely sinister smiles...


Curating Los Angeles


January 10th, 2011

Cirque Berzerk - An imaginative, twisted, post gothic punk extravaganza

When I found out several months ago that my wife would be going out of town for a weeklong business trip starting on January 9th, I thought we should do something fun the night before her departure.

In the hunt for just the right activity, I discovered that Cirque Berzerk, LA's own circus troupe, was opening its 2011 Los Angeles engagement at Club Nokia on the same weekend. I'd wanted to see them for several years, so I bought two tickets for the Saturday, January 8th show...


The Rundown


January 13th, 2011

Cirque Bizarre

Mash together burlesque and Black Swan, and you end up with Cirque Berzerk, the dark carnival that emerged from the playa dust at Burning Man.

With costumes out of Rocky Horror and acts from the Joker's playbook, this spooky vaudeville show is definitely not for kids...


Blog Downtown


January 13th, 2011

...Cirque Berzerk at Club Nokia

Burlesque circus group Cirque Berzerk began its' one month residency at Club Nokia last weekend, moving across Downtown from a red and white tent at the Los Angeles State Historic Park to a state-of-the-art concert venue at L.A. Live.

While many of the diehards who have followed the show since its inception at Burning Man have criticized the change, the show is now accessible to a wider audience with better facilities, equipment and amentities...


The Downtownster


June 22nd, 2009

Cirque Berzerk

We hardly noticed—it was a small, but insidious change. Something had invaded downtown Los Angeles. Like a deadly mushroom cap that sprouted after a rainstorm, a large striped tent went up in an abandoned field at the edge of town. Later, after the irreversible damage had been done, the townsfolk would remark that it seemed to happen overnight. Strange people, workers maybe, were seen coming and going across the grounds. Some carrying what looked like equipment, some carrying what looked like…dead bodies...


Hipster Travel Guide


January 4th, 2011

LA: Can you handle the Cirque Berzerk?

Imagine The Burning Man on stage — in Los Angeles.

Cirque Berzerk, which has received rave reviews (though we have not personally seen it), looks as if it's part burlesque, part theater and part athletic prowess that makes you sit in your seat and say, "how the hell do they do that?"

A new show begins this Friday and continues through January.

All we can do is tell you that...


La Opinión


January 7th, 2011

Circo con magia (Circus magic)

When speaking of the circus, the image viewer is the clowns, elephants, music, children ...

In recent years, the success of the proposed stage of Cirque du Soleil has taken a radical turn to the world of the circus, including film and theatrical elements, and many millions of dollars that have left with their mouths open to those audiences who have enjoyed.

(Translated by Google Translate)


Los Angeles Downtown News


January 3rd, 2011

The Culural Calendar

The dark vaudevillian circus that for two summers set up its twisted big top in Los Angeles State Historic Park move indoors this month to Club Nokia. It's quite a venue switch for the fire-breathing, high-wire walking, sexy contortionist bunch. But if anyone can rub the corporate gleam off L.A. Live to make for a gritty and authentic show, it's Cirque Berzerk. The happening founded by husband and wife team Kevin Bourque and Suzanne Bernel takes over Club Nokia Jan. 7-30 with 29 shows. Think of it as a backyard version of Barnum and Bailey's, with whiskey instead of cotton candy, and corsets instead of candy-cane stripes.


Chinashop


July 20th, 2009

Cirque Berzerk: Wonderfully Weird, Sinfully Sexy

It's time to face facts: clowns are creepy. Of this we are all quite aware, I'm sure. There is something inherently shudder-inducing about the white face, the blood-red smile, the silent, piercing stare. Luckily, some of my LA brethren felt the same way, but instead of banning clowns at birthday parties and slamming the door in the face of little clown children on Halloween, they decided to embrace the sinister side of all things circus. I'm talking, of course, about Cirque Berzerk, LA's only resident circus, a performance act that's making creepy cool with seven performances a week through July 26th (August 9th – see comments – DL) at LA's state historic park...


CurtainUp


January 7th, 2010

Los Angeles Review of Cirque Berzerk

If you're a fan of "The Nightmare Before Christmas" and all things dark and twisted, get yourself to Cirque Berzerk's newest creation: BENEATH. Conceived by Kevin Bourque (who also composed the terrific score played live at each performance) and Suzanne Bernel at Burning Man, this alternative circus invokes gothic and German expressionistic imagery, creating an event filled evening from the moment you step on the LA State Historic park grounds.

The mood is set before the circus begins—fire rims the entrance sign. Now and then flames sprout from two large canisters...


DTLA Buzz Blog


July 30th, 2009

Cirque Berzerk – The New Greatest Show on Earth

We arrived early, and were greeted by a sprawling circus tent in the middle of the LA State Historic Park, against the already glittering skyline of downtown LA. There were a handful of people congregating, milling around the grounds, waiting for the sky to darken and the gate to open into the wonderfully strange world of Cirque Berzerk.

Meanwhile, the backstage tent was bustling while generators hummed, pancake make-up applied with meticulous precision, and muscles were stretched every which way in preparation for the night. Last-minute repairs were being sewnr...